William Elmore "Elmer" Brown

2 Jun 1891 - 14 Jul 1921
World War I Draft Card


1. Elmer Brown
2. S. Jackson, West Frankfort,Ill
3. June 2 1891
4. Natural Born Citizen
5. Nelstor???? Co. Ky U.S.A.
6. ---
7. Coal Miner
8. Producers Coal 4 Co.
9. yes- wife & 2 children
10. married caucasion
11. no -, -, -, -
12. yes as ???????
(Signed:) Elmer Brown

1. Township:tall masculin
2. color of eyes:bluecolor of hair: darkbald:no
3. no
(Signed:) H.R. Dial
Township: 2
City or County: Franklin
State: Ill. June 5 1917
Man Killed While Resisting Officer

Walter Kanady acting as a special police during the Ridgway reunion held in that city last week, shot and instantly killed Wm. E. Brown of Royalton who attempted to make his escape as he was being locked up in the city calaboose on Thurday night about 10 o'clock. It was thought by many of the officials that Brown was dispensing whisky and he was being closely watched for evidence that would justify his ar rest, when a woman claiming to be his wife,in a fit of jealousy, turned him up, causing his arrest by Deputy Sheriff Frank Kimbro, assisted by Mr. Kanady. These two officials, with there prisoner had arrived at the calabose when the woman who had caused Brown's arrest arrived on the scene an made an attempt to correct her error by assisting to free the prisoner. She clinched with Kimbro and it was while they were scuffling that Brown attempted to make his escape by running away. Kanady who had charge of the prisoner at this time order-ed him to stop and when he ig-nored the command Kanady, fired the ball takin effect in the lower lobe of the left lung and ranged upward to the heart coming out just below the heart in front. A coroner's inquest was heald Friday morning at which Kan-ady was Exonorated from all blame, but when Brown's mother arrived there at noon she caused his arrest for man-slaughter and Kanady was ar-rested and placed under a $300 bond which was prompt-ly filled with a long list of voluntary signers. Brown's body was prepared for burial and taken to West Frankfort by his mother Saurday morning.
"Elmer's" Final Resting Place

Miners Cemetery
Six Mile Township, Royalton
Franklin County, Illinois

William Elmore "Elmer" BROWN 2 Jun 1891-14 Jul 1921

son of Milton Elmore & Mary Caroline [TAYLOR] BROWN

Family members buried at Miners Cemetery:

Alton Daniel BROWN (Brother)

Henry Claude BROWN (Brother)

Jesse (Sister)

Mary Caroline (TAYLOR) BROWN (Mother)

Milton Elmore BROWN (Father)


Family Group Sheet

NOTES:

William Elmore Brown shares a tombstone with his brother Henry Claude Brown. The tombstone list their names as:

ELMORE BROWN & CLAUDE BROWN


"Elmers" father came to Royalton to help with the establishment of the UMWA, and was a coal miner in East Tennessee & Eastern Kentucky.
"Elmers" mother ran a boarding house in Royalton.
"Elmers" parents later divorced.
Death Certificate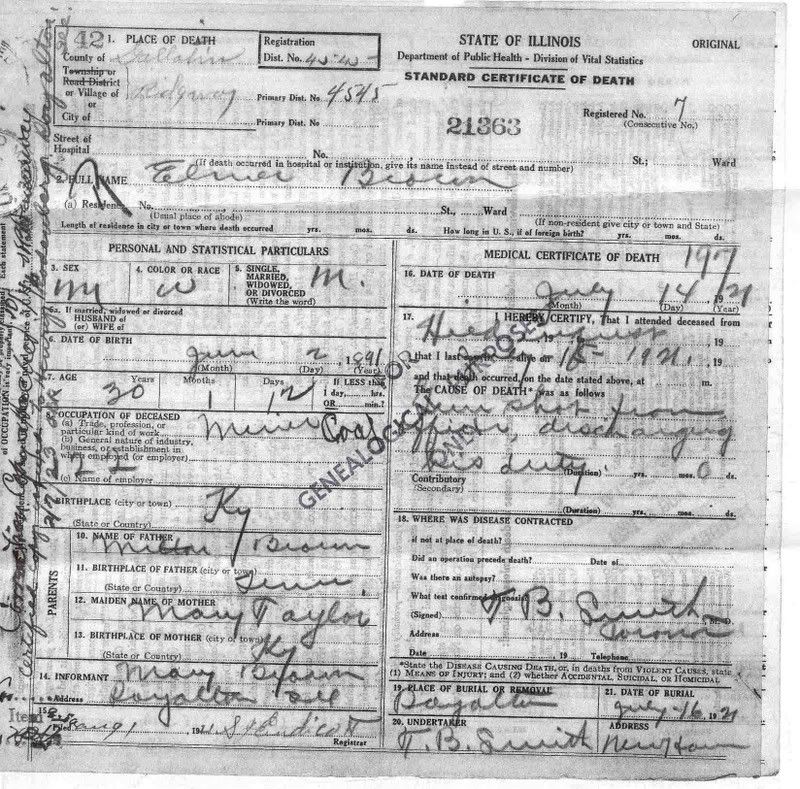 Submitted by Paula Meinert (Great-Niece of "Elmer" BROWN)
---
Return to the Main Index Page for Franklin County
Nanette Riley©Illinois Genealogy Trails History Group